Understanding the Different Types of Breast Implants: Silicone, Saline, and Cohesive Gel
A breast augmentation can provide you with the youthful curves you desire. Focusing on natural-looking results and exceeding expectations, Dr. Justin Jones offers three high-quality types of breast implants at his Oklahoma City, OK, cosmetic surgery practice to make your aesthetic dreams a reality. With saline, silicone, or cohesive gel implants, combined with Dr. Jones' personalized approach, you can begin your journey towards the new you.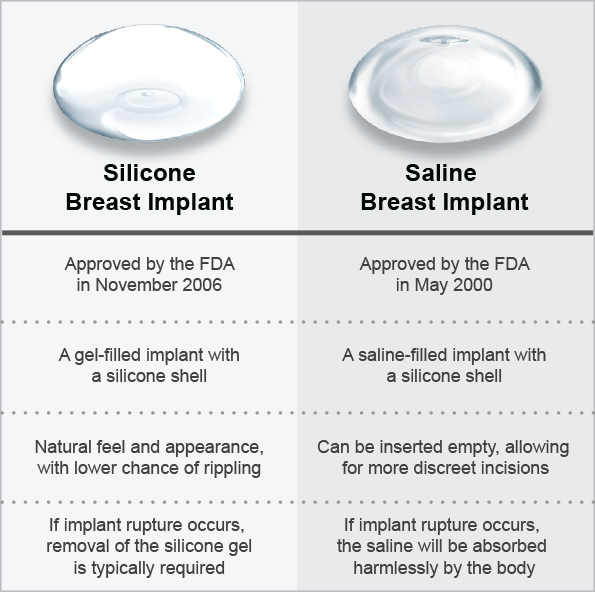 Saline
Saline breast implants are composed of a silicone outer shell filled with a sterile saline solution. Patients 18 years of age and older are eligible to receive saline implants. If implants will be used for breast reconstruction reasons, patients can be any age. During this procedure, the empty silicone shell is first inserted into the breast, and filled with the solution.
During your sizing appointment, you will be presented with a variety of options, and will "try on" different sizes and shapes of implants.
Since the shell is inserted empty, the incision and scar are usually smaller than those involved in placing silicone implants. While many patients prefer silicone implants because of their more natural appearance and feel, saline implants are a good option for women with more breast tissue. Saline is absorbed and expelled naturally by the body in case of rupture, making revision surgery simple.
Silicone
Silicone breast implants consist of a silicone shell, pre-filled with a silicone gel designed to mimic the feel of breast tissue. They are approved for use by women 22 years of age and older, or any age for cases of breast reconstruction. Many women prefer silicone implants because they feel more like real breasts. Silicone implants are less likely to result in visible rippling than saline implants.
Silicone implants have a low deflation rate. It may be difficult to tell if and when your silicone implant has deflated or leaked, and regular checkups are necessary to evaluate their condition. It is recommended that silicone implant recipients undergo an MRI screening three years after surgery, and every two years following.
Silicone Technology: Old Vs. New
Cohesive Gel
Cohesive gel implants, also known as gummy bear implants, are silicone prostheses that feel soft and natural, yet hold a constant teardrop shape that will not ripple. They are approved for breast augmentation patients 22 years of age and over, and breast reconstruction patients of any age. Similar to gummy bear candies, these implants are pliable, but high-strength. Additionally, gummy bear implants are the only implant that cannot leak, making them a safe option.
Making the Right Choice
Dr. Jones understands how personal a breast augmentation can be, and will only recommend the most fitting type of implant for your specific cosmetic goals. He will discuss your aesthetic vision along with benefits and characteristics of each implant type, and how they can enhance your figure.
During your sizing appointment, you will be presented with a variety of options, and will "try on" different sizes and shapes of implants. It is important to come to the sizing appointment with specific goals in mind, so that Dr. Jones can accurately help you design your new look.
At Jones Plastic Surgery, our mission is to provide natural-looking results that meet your aesthetic goals and exceed your expectations. Contact us today to schedule your consultation and to learn more about the types of breast implants.
Gummy Bear Breast Implants